Since opening our doors in 2004, we have served organizations in a wide range of industries. In addition to an industry-diverse client base, the types of organizations that we've worked for span private to public, shrinking to growing, start-up to established, and product-focused to service-focused.
With our solution-based approach and a large network of coaches across North America, we are well positioned to serve companies in all distinct industries, sectors, and stages of growth. CareerCurve clients represent many industries, and we've completed work across a broad expanse of North America.  We have delivered hundreds of thousands of coaching hours and support to individuals' at all organizational levels and across broad functional responsibilities.
Industries we have served: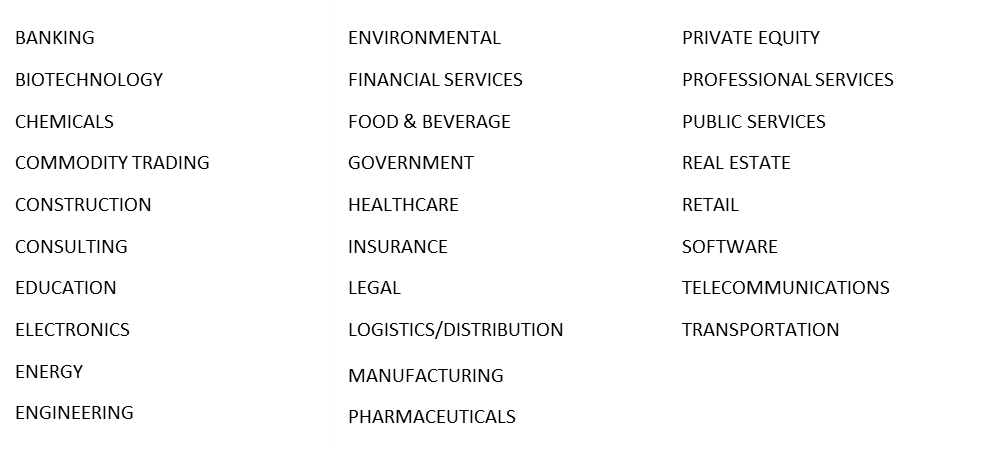 All CareerCurve clients share a common attribute – a desire to treat all employees with dignity and respect. Our clients recognize the business value that former employees continue to provide, through elevating employee engagement levels with the current employee base and promoting a strong employment brand for future growth. The data is clear – multiple research studies have proved that high employee engagement and a strong employment brand equate to growth and robust financial performance.
A quality outplacement program helps drive results. The data also indicates that former employees place the highest value on personal coaching, and CareerCurve's coach-driven approach is proven to help individuals land quickly and successfully. A coach-driven program provides a critical element that is missing from many outplacement offerings: accountability. Our coaches drive the process, providing motivation and professional oversight to ensure rapid results.